Positional Asphyxia in Adults
A Series of 30 Cases from the Dade and Broward
County Florida Medical Examiner Offices from 1982 to 1990

CITATION:
Bell MD, Rao VJ, Wetli CV, Rodriguez RN. Positional asphyxia in adults:
A series of 30 cases from the Dade and Broward County Florida
medical examiner offices from 1982 to 1990.
Am J Forensic Med Pathol, 1992;13(2):101-107, 1992.
Although the "old" version of this article remains on this page,
in December, 2005, I created and posted a PDF file of this article!
If you're going to print it, I strongly suggest you print it from the PDF file:
Positional Asphyxia in Adults
A Series of 30 Cases from the Dade and Broward County
Florida Medical Examiner Offices from 1982 to 1990

Published in The American Journal of Forensic Medicine and Pathology
Vol. 13, No.2; pg 101-107, 1992
Because I received files containing better quality reproduction of all but one of the
"figures" from this article, I've done a "cut-and-paste" job with its reproduction.
To print a copy of this article, you only need to print Pages 2 through 8 of this web "page!"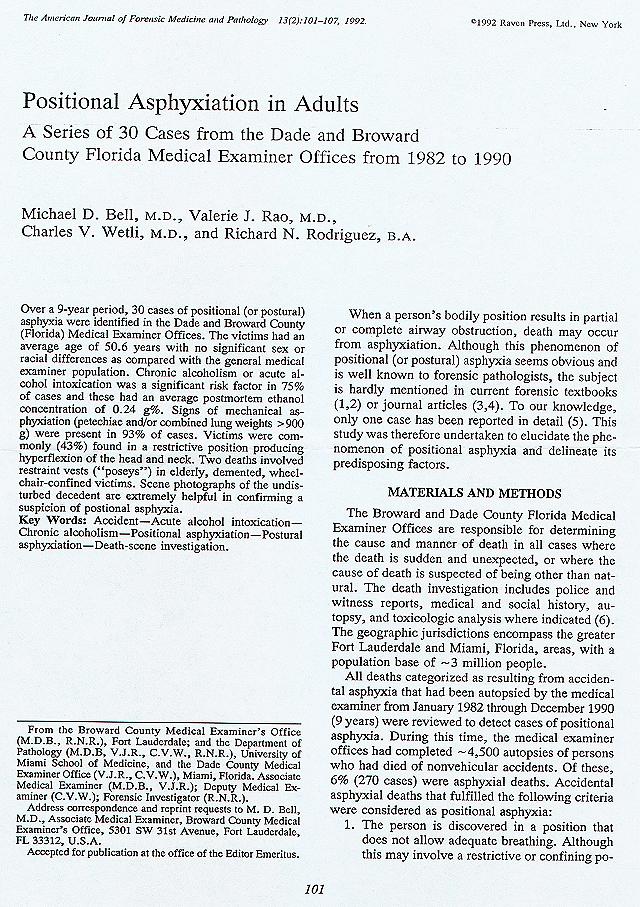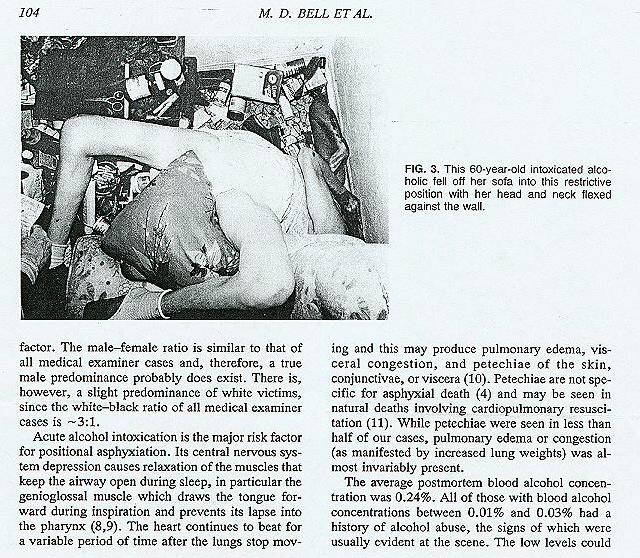 | | |
| --- | --- |
| | |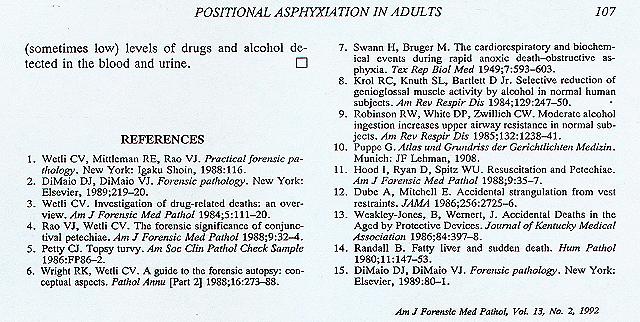 USE YOUR BACK BUTTON
To Return To Wherever You Came From

OR:
Return to the
Restraint Asphyxia LIBRARY
Return to the
RESTRAINT ASPHYXIA NEWZ DIRECTORY
Return to
CHAS' HOME PAGE


Email Charly at: c-d-miller@neb.rr.com
Those are hyphens/dashes between the "c" and "d" and "miller"
This page created on March 16, 2003