Intracranial
Penetration
of a
TASER Dart

CITATION:
Rehman T, Yonas H, Marinaro J. Intracranial penetration of a TASER dart.
Am J Emerg Med. July 2007;25(6): pgs 733.e3-733.e4
CHAS NOTE:
Because it is a CASE STUDY, an "ABSTRACT" of this article is NOT available.
Although I'd love to see it, I wasn't willing to PAY for the whole Case Study.
I managed to find a tiny snippet of info about the case, and one IMAGE, on the Internet.
And THAT is what is currently posted here.
Hey! CLICK HERE if YOU are interested in PURCHASING
this Case Study's PDF file!
If you do that, PLZ Email IT TO ME after you buy it, so that it can be shared with others!

Intracranial Penetration of a TASER Dart
Tausif-Ur Rehman, MD; Howard Yonas, MD; and Jonathan Marinaro, MD.
Case Report.
(That's IT! That is ALL that comes up unless you BUY
this American Journal of Emergency Medicine article!)
Here is the info snippet and IMAGE I managed to find on the Interent:
A 16-year-old boy was shot in the face with a Taser while resisting arrest.
One of the darts went through his skull and poked into his brain just a little bit.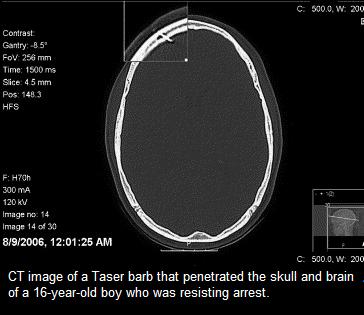 That's all I've got right now.
But, CLEARLY, that can't be GOOD!

AUTHORS:
Tausif-Ur Rehman MD and Howard Yonas MD are from the


Department of Neurosurgery, University of New Mexico, Albuquerque, NM
Jonathan Marinaro MD is from the Department of Surgery and the


Department of Emergency Medicine, University of New Mexico, Albuquerque, NM
Here are the authors' EMAIL addresses:
Tausif-Ur Rehman MD: trehman@salud.unm.edu
Howard Yonas MD: hyonas@salud.unm.edu
Jonathan Marinaro MD: jmarinaro@salud.unm.edu

USE YOUR BACK BUTTON
To Return To Wherever You Came From
OR Use the Following Links:
Return to the TASER ARTICLE COLLECTION
Return to the Restraint Asphyxia LIBRARY
Go to the Restraint Asphyxia Newz Directory
Go to CHAS' HOME PAGE


Email Charly at: c-d-miller@neb.rr.com
(Those are hyphens/dashes between the "c" and "d" and "miller")